New! We now have the alternator conversion kits
for you poor 470 and 3.7L owners. This kit replaces the old
water cooled voltage regulated system that was
prone to failure and expensive to replace.
Kit 804916A1 is only $965.00.
It includes a pully, mounting bracket, belt, hardware, harness
and a 68 amp marine alternator. The kit requires an additional space in front of the existing pully
of about 3 inches.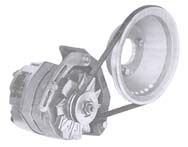 Safety
Boats can explode. Moving parts can rip off your fingers. Hot exhaust can burn you to the bone and props can slice you up. One spark near a battery can cause an explosion. You can never be too careful. Remove the battery from the boat before working with fuel. Always disconnect the batteries negative terminal first. Clean up any spilt fuel and let ALL of the fumes dissipate before installing the battery and starting the motor. Pulleys and Belts can grab your clothes and hair. Don't wear loose clothing and keep your hair up under a hat. Always wear safety glasses. Be smart.